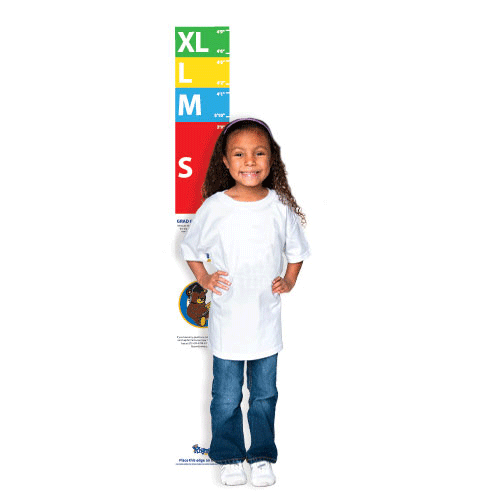 How to Order the Proper Sized Gowns for Graduation
How to Order the Proper Sized Gowns for Graduation
To be fully prepared for your preschool or kindergarten graduation day you will need to measure every student. Rhyme University has taken the guesswork out of this somewhat stressful process. Use this handy "how to" guide to measure students and order gowns for your big day.
Step 1: Schedule a measuring day.
Measuring day should be 6-8 weeks before your graduation date. (Since children in this age group grow and change quickly, it should not be too far in advance.) Make sure you have plenty of time that day and a helper to measure each student. NOTE: Don't forget to inform the parents of this day. They will need to prepare their child with the proper attire they need to wear on that date (i.e., proper shoes).
Step 2: Gather materials for measuring day.
Download and print our Size Chart and secure it to a wall. It's an easy alternative to measuring tapes, and seeing the chart on the wall will get your kids excited to be measured.
You can also use our Graduation Gown Worksheet to keep track of each student's height and gown size.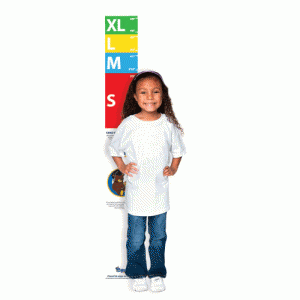 Step 3: Measure your graduates.
Before you start measuring, make sure every child is wearing shoes that are similar to what he or she will wear on graduation day.
Have each student stand straight and measure him or her from head to floor. Note their height on your Graduation Gown Worksheet (make sure you are measuring in feet and inches).
NOTE: If you are ordering 6 months or more prior to graduation, add 1/2″ to 1″ to each child's present height to allow for growth.
Step 4: Ordering and receiving graduation gowns.
Once you have every student's height and gown size at the ready, place your order with Rhyme University. Call us at 1-877-472-3738 or visit RhymeUniversity.com to order. NOTE: Be sure to specify your distribution date when you order to receive your gowns in plenty of time.
After you have received your gowns, distribute them to parents, and make sure to have each child try on their gown to ensure a correct fit.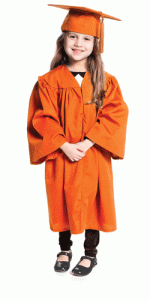 Did you find these steps helpful? Leave a comment for us. We always appreciate your feedback.